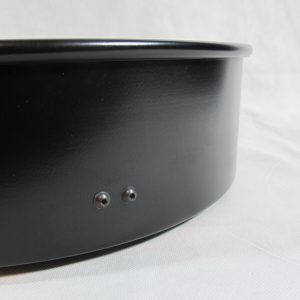 The standard finish on our BODdrums is a matte black powder-coat finish giving a really cool and stunning appearance; no other bodhrán style drum looks anything like this. The powder-coat finish is to a full automotive standard, hard and reliable.
Moving away from the standard matte black powder coat finish we can do just about anything. Custom finishes cost more but your drum will be truly unique, both in sound and appearance.
For starters, we can powder coat a drum shell in any colour of the rainbow offered on the RAL Colour Palette. We made two rather fabulous examples currently for sale in our shop, a 16 inch BODdrum with a metallic blue finish and another with a metallic red finish.
The RAL finishes can be matte, like our classic black drum shells, or glossy like those two metallic finishes, or can have a bit of texture, something we trialled on our prototype udu. Different colours of powder coat finish typically add £60.00 (incl VAT) to the total price of your drum.
Another exciting choice is to ask us to just give a high polish and protective clear coating to the natural silver aluminium shell.  We loved this finish when we made up a drum recently for a customer.  This is available at no extra cost – price will be the same as the matte black BODdrum.
We particularly love the airbrush finishes achieved by our airbrush artist, Hurricane Airbrush Art.  They painted the Harlequin patterned 14″ BODdrum featured on the home page and throughout the site, which is my own go-to drum for ceilidhs and accompanying Morris sides in any weather. They also paint the "settling stout" finish on Cormac's Talking Bodhrans.  The detail, depth of colour and lustre are simply gorgeous, and again, the finish is a full automotive standard, tough and durable.  You can provide artwork, or a general idea and let our artist suggest an interpretation of your concept.  Pricing will be agreed when the artwork is discussed.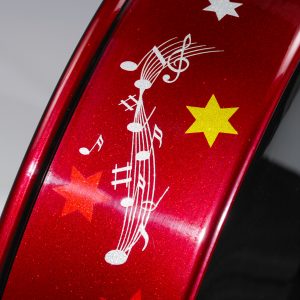 We invited Hurricane to go mad on three BODdrums just for fun, and two of those are for sale:  Ribbons and Carbon Fibre.  The third is a 16 inch red "Stars" drum featured here, which is just stunning, especially in contast with the black hydraulic skin, and I ended up keeping this one for myself.  Every Hurricane Airbrush BODdrum is signed and numbered, a unique collector's item as well as a simply fabulous instrument to play, and a great way to make a statement about your own musical artwork.
Other possibilities are to have your drumshell anodised, etched, plated or polished in virtually any pattern or finish you like, we have artists on call to help. Custom finishes are limited only by your imagination. We may need to double check with our suppliers if it gets truly outrageous, but tell us about it and we'll see what we can do.  As far as we are concerned, just about anything should be possible till proven otherwise!
Contact us to discuss the possibiities and potential pricing, or to see and try out any of our drums at our workshop in Cambridgeshire.