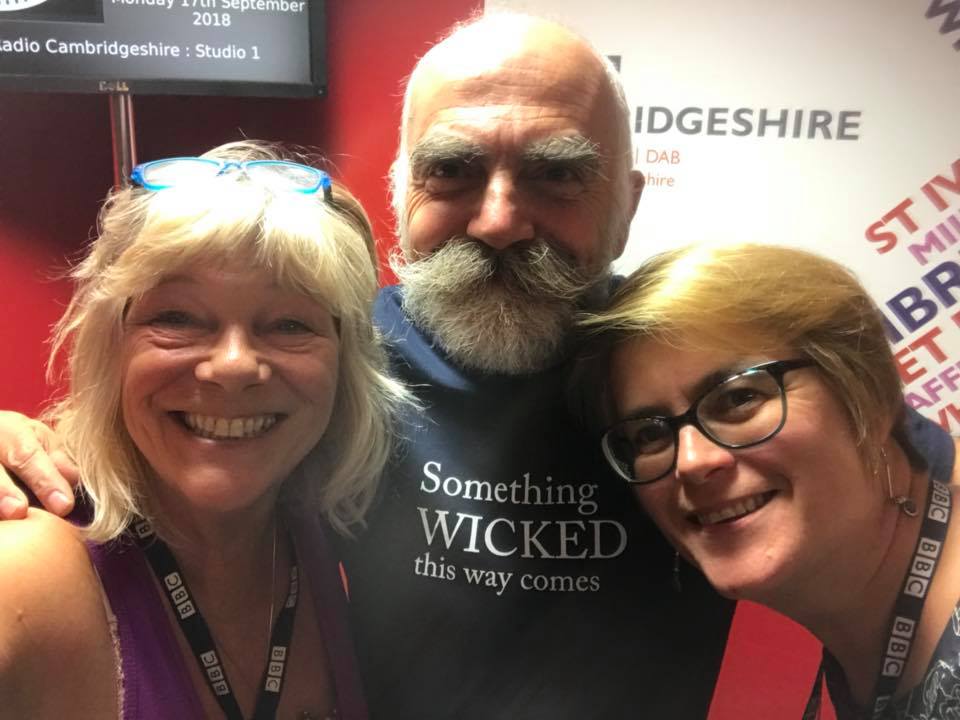 Last night was the premier of The Folk Show on BBC Radio Cambridgeshire, which explores the county's world-famous folk music scene.  The show broadcasts weekly on Monday nights from 19:00 to 22:00, hosted by Sue Marchant and Nicky Stockman.
Both the hosts are well known to us at BOD, and BBC Radio Cambridge could not have found two local presenters more knowledgeable or dedicated than Sue and Nicky.
Sue Marchant is an experienced radio broadcaster and producer who has long had a special interest in folk music. John and Sue have crossed paths repeatedly over the years, most often when Sue was covering the Ely Folk Festival, where John has been involved as everything from volunteer to Festival Director over the past 20 years.
Nicky is a musician herself, and some of you may remember her joining us during the bodhrán workshop at the Ely Folk Festival in July 2017. She  plays for the Ouse Washes Molly morris side and she and John play together regularly as part of the Dennis Cuddles Starlight Ceilidh Band, with Nicky switching between melodeon, clarinet and sax, as needed.  Nicky also does a lot of work with children and schools, focussing on folklore, heritage and WWI commemoration projects.
For the inaugural Folk Show program last night, Sue and Nicky invited John along to talk about bodhráns and the BOD Drum.  John taught everyone in the studio the basics of how to play the bodhrán, as well as demonstrating some riffs and techniques that really make the BOD and the Talking Bodhrán come alive, different from a traditional bodhrán.
During the broadcast, they listened to "Shards", from Evan Carson's album Ocipinski (you can also hear and watch that video on our BOD Videos page), and a couple cuts from Cormac Byrne's Stone Soup album, due to be released later this year; both Evan and Cormac play the Talking Bodhrán in these performances.
You can find The Folk Show on BBC Radio Cambridgeshire, and listen to last night's show on line for another 29 days, as well as tune in every Monday evening at 19:00 to hear more each week.